*This article may contain affiliate links. As an Amazon Associate, I earn from qualifying purchases. For full information, please see the disclaimer here.
Anyone who has had to memorize the seven grammar cases of Polish and had butchered the word szczęście (which, ironically means happiness) can tell you that Polish is a challenging language to learn. To get closer to fluency, you need loads of motivation, patience, and of course, books to learn Polish.
Confusing digraphs and declensions aside, Polish is a fun and useful language to learn. Besides, what is life without its challenges? So, for you, brave soul who has decided to take this monumental challenge, here's a collection of Polish books to help you in your journey.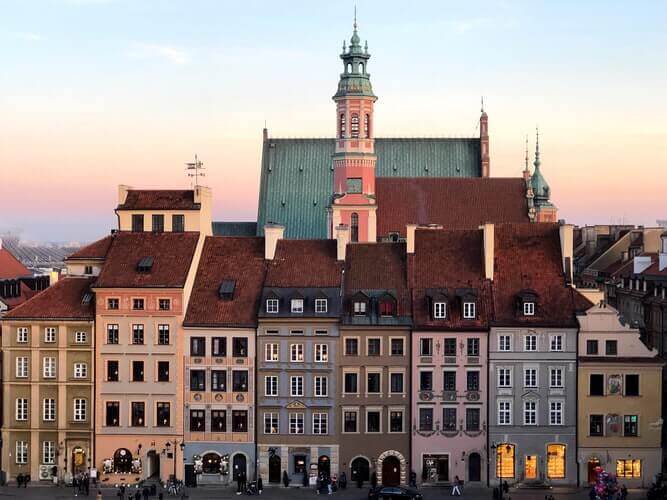 This list includes Polish textbooks that cover all skill levels, grammar and vocabulary books, audiobooks, and storybooks from Amazon. Plus, we've got tips on how to make the most out of these books. Zaczynajmy!
Best Polish books for beginners
We're kicking off this list with one of the most comprehensive resources for learning Polish. True to its name, this book by Simple Language Learning is rife with all the basics of Polish for beginners and intermediate learners, plus exercises that won't bore you to tears.
This textbook is actually a set of three books. In the first section, you will learn basic vocabulary like numbers, greetings, common words used at work and in school, and more. The second part covers 11 short and engaging stories (listed separately in this article's storybook section). The third part contains over 1,000 essential phrases that will come in handy when you visit Poland.
This book is replete with examples and cultural notes that make it not just informative but also fun to read. Do note that there are no pronunciation guides in this book, but you can get the audiobooks separately.
Click to: Buy on Amazon / Buy on Book Depository
This book is best for:
Building a strong foundation in Polish
Well-rounded Polish lessons
Beginners who are self-studying
The "For Dummies" series of books is a hit or miss. Some are mind-blowingly good, some not as much. Fortunately, Polish for Dummies come highly recommended by Polish language learners.
This book covers the Polish alphabet, grammar and pronunciation, as well as important phrases and sentences in Polish. It's a solid book for beginners and one of the best books to learn Polish for foreigners who know absolutely nothing about the language.
Polish for Dummies also comes with an audio CD, which is great for alleviating one's confusion over Polish pronunciation.
Click to: Buy on Amazon / Buy on Book Depository
This book is best for:
Simple but not dumbed-down introduction to Polish
Absolute beginners
Learning practical Polish vocabulary in a variety of daily scenarios and select workplace setups
Written by two long-time Polish teachers, Complete Polish aims to help readers acquire a solid understanding of Polish and be able to communicate confidently.
If you're a beginner when you start reading, you're expected to progress to intermediate level by the time you're done.
The goal is to help you improve in four key skills, writing, listening, speaking, and reading Polish. The book does this through lessons on grammar, pronunciation (with audio guides available online), over 2,000 Polish words and dialogues, and plenty of culture notes.
Click to: Buy on Amazon / Buy on Book Depository
This book is best for:
Well-rounded lessons with plenty of exercises to make the language stick
Improving your Polish skills with real-life vocabulary
Refresher course for those who already know Polish
No list of Polish books is complete without Oscar Swan's bestselling textbook, First Year Polish.
Often recommended for beginners, this covers all aspects of learning Polish – speaking, reading, writing, and listening. It covers grammar exhaustively, with specific chapters focusing on it while also being spread throughout the book.
There are 30 lessons that vary between reading and conversation. This 2nd edition has been rewritten with added material plus graphics and even songs. It's a little dated (published in 1983) but the language and lessons remain relevant and helpful.
No doubt one of the best books to learn Polish.
Click to: Buy on Amazon / Buy on Book Depository
This book is best for:
Anyone who's starting out in Polish
Exhaustive grammar lessons
Comprehensive reading and speaking exercises (if you're able to find the audio files)
Best Polish grammar books
Grammar is a sticky subject for Polish learners, thanks to its many declension patterns, free word order, and confounding modifiers. That's why a Polish grammar book is one of the best weapons if you're learning Polish.
Polish: A Comprehensive Guide does a great job of covering all the important aspects of Polish grammar through thorough and clear explanations. This book contains real patterns of use in contemporary Polish.
Albeit not ideal for absolute beginners, those who have already learned a bit of Polish will find this invaluable. The only downside is that there are no exercises so we suggest using this in conjunction with other references.
Click to: Buy on Amazon / Buy on Book Depository
This book is best for:
Upper beginners with a grasp of basic Polish
Accessible and systematic studying of Polish grammar
Supplementary resource for students who are learning from other books or courses
Polish has seven grammar cases, and more if you include the plural classes and gender modifiers. it is one of the biggest struggles for Polish language learners. This makes Jarosław Hajduk's book an indispensable resource.
Nouns Declension in the Polish Language guides readers through the creation of all 42 noun forms (7 cases x 3 genders x 2 numbers). This makes it as relatively easy as possible through step-by-step instructions. It helps that it's written in a clear, non-boring, and encouraging manner.
Tip: Complement the book with the author's website and YouTube channel, which contain further learning materials.
Click to: Buy on Amazon / Buy on Book Depository
This book is best for:
Clear and non-intimidating explanation of Polish noun declensions
Engaging and easy-to-follow grammar patterns
Beginners who are committed to long-term studying of Polish
As it title suggests, this book contains 301 common Polish verbs, listed alphabetically, with full conjugation tables for each verb. Each page contains one verb so you can be fully immersed in all its conjugations.
Aside from the tables, the book also features puzzles, self-tests, and other challenges designed to instill a deeper understanding of Polish verbs. There are also lots of examples, plus indexes listing nearly 2,300 verbs.
301 Polish Verbs is, without a doubt, one of the best books to learn Polish, if you're fully committed to learning one of the most crucial parts of its grammar.
Click to: Buy on Amazon / Buy on Book Depository
This book is best for:
Scrutinizing an important aspect of Polish grammar
All skills levels. However, beginners are encouraged to use other resources, too.
Strengthening grammar recall and building Polish vocabulary
Best Polish vocabulary books
If you're thinking of traveling to Poland and you don't think you can squeeze in a full textbook or online course before you leave, this phrasebook can be a great quick fix.
Lightweight and easy to use, BBC's Polish Phrase Book & Dictionary is exactly what it sounds like.
The entries are arranged by topic, with words and phrases for every imaginable scenario. Even if you previously didn't speak a word of Polish, you can easily build your own sentences. At the very least, you can form imperfect but corrigible sentences.
Words are spelled phonetically to help with pronunciation. The book also includes language and travel tips, making it one of the most useful books to learn Polish.
Click to: Buy on Amazon / Buy on Book Depository
This book is best for:
Travelers visiting Poland
Building vocabulary, especially relating to travel
Quick reference for learners of all levels
Studying Polish is one thing. Putting it to the test is another. But with this workbook, you get to do both.
Polish Tutor is a workbook containing 200 activities across a range of grammar and vocabulary points. With clear goals, concise explanations, and real-world context, it's an easy-to-follow book for beginners and intermediate learners. It has answer keys as well so it's perfect for self-studying.
The book contains 20 short learning units that start by establishing your communication goals. It then moves on to new vocabulary and grammar explanations with extensive exercises. There are plenty of reading and writing sections to consolidate your learning, too.
Click to: Buy on Amazon / Buy on Book Depository
This book is best for:
Beginners to intermediate learners
Self-learners
Building a strong foundation on the language rules of Polish while also learning about the culture
Another one for travelers, but also great for any Polish learner, is Lonely Planet's phrasebook. With over 3,500 words, this phrasebook-dictionary hybrid has all the basic words, phrases, and sentences one will possibly need when traveling across Poland.
This book covers practical words used in real-life conversations, mostly related to social scenarios, food, transportation, and shopping. While in no way comprehensive, the vocabulary is relevant. You can even impress locals if you manage to say colloquial phrases, which this book has plenty of.
The goal is for you to learn to speak Polish confidently even without prior studies. And you can do this by studying the phonetic spelling and phrasing guides. In addition, the essential tips on cultures and manners are super useful.
Click to: Buy on Amazon / Buy on Book Depository
This book is best for:
Compact and quick reference while traveling in Poland
Absolute beginners
Intermediate learners looking to expand their vocabulary and learn about Poland's culture
Best Polish audiobooks and storybooks
If you already mastered Polish grammar, or at least have a good grasp of the rules, but need a vocabulary boost, this one's for you.
First Polish Reader is a storybook featuring stories in both Polish and English, laid out parallel to each other for easy reference. Each lesson contains a list of about 30 to 40 words. There are no grammar notes so this is simply for building your vocabulary arsenal.
The book uses the ALARM system (Approved Learning Automatic Remembering Method). You will study words that are previously introduced and explained, increasing recall in the process. The book also starts with low-level stories then gradually increases in difficulty.
Click to: Buy on Amazon / Buy on Book Depository
This book is best for:
Learners with a firm grasp of Polish grammar but have a small vocabulary
Learning Polish through stories
Improving capacity to read in Polish
From the makers of the Innovative Language 101 app, one of our recommended apps for learning Polish, comes this newbie-friendly audiobook. The goal? To get you to speak Polish in an instant.
That may sound like a tall order but Innovative Language has well-established methods of teaching languages. This audiobook features a native Polish host who breaks down sentences, grammar, and vocabulary in a simple, easy-to-understand way. It's interactive (as interactive as possible when you're self-studying) and fun.
The audiobook comes with 25 audio lesson tracks (or over three hours of Polish lessons), five review tracks, and five dialogue tracks to which you can read along as you listen.
Click to: Buy on Amazon
This book is best for:
Learning Polish on the go or while doing other tasks
Auditory learners
Quick way to learn how to speak in Polish
Geared towards learners who are going to Poland for holidays or business trips, the Easy Learning Polish audio course introduces key vocabulary useful in important situations. The narrators guide listeners through 12 chapters of useful phrases and common day-to-day scenarios.
As a beginner, the essentials are clearly explained. If you want to build on existing knowledge, you can listen to the more advanced units.
Although lacking in grammar notes, this course helps you learn practical words and phrases. Plus points for encouraging narrators. Even if you don't intend to fly to Poland soon, this will help you start speaking Polish.
Click to: Buy on Amazon / Buy on Book Depository
This book is best for:
Learners who plan to travel to Poland
Building confidence to speak Polish
Acquiring useful Polish vocabulary and listening skills
Am I Small? by Philipp Winterberg is a children's book that's originally written in German and translated into over 175 languages and dialects, including Polish.
Titled Czy jestem mała? in Polish, this picture book tells the story of a girl who worries about her size. She meets different animals as she ponders this question.
Don't expect a mind-blowing story. This is a children's book, after all. But this has colorful illustrations and is one of the most immersive books to learn Polish, especially if you're a beginner or raising a bilingual child.
Click to: Buy on Amazon / Buy on Book Depository
This book is best for:
Absolute beginners and children
Learning Polish through stories
Visual learners
The title's a mouthful but the stories in this collection are much more straightforward. True to its name, the stories are simple, beginner-friendly, and take place in familiar settings like offices, homes, and hair salons.
Polish Short Stories introduces rich and new but not too complex vocabulary. What's great is that the translations are found at the end of each chapter so it won't disturb your reading rhythm while you try to look for words in a dictionary.
After each chapter, there are questions to test your understanding of the story. The book also comes with answer keys, so you can crosscheck your answers. This is one of the best books to learn Polish in a non-boring format.
Click to: Buy on Amazon / Buy on Book Depository
This book is best for:
Upper beginner to intermediate level learners
Supplement to existing lessons or learning materials
Expanding Polish vocabulary
Best Polish textbooks for intermediate to advanced learners
Do not buy this book if you don't know a word of Polish. This is written completely in Polish.
But if you can read in Polish, or have an extra patient native speaker who's tutoring you, this is one of the best textbooks out there. It does a great job of explaining Polish grammar in an easy-to-follow manner. It eases you into each concept, careful to not overwhelm you.
This is book breaks down sentences thoroughly. The exercises will keep you engaged, too. Also comes with an audio CD.
Click to: Buy on Amazon / Buy on Book Depository
This book is best for:
Classroom use or if you have a Polish tutor
Improving reading and writing skills in Polish
Comprehensive grammar lessons
Polski, Krok Po Kroku, which translates to "Polish, Step by Step", is one of the most recommended books to learn Polish for intermediate learners. Despite the A1 and A2 labels, the book is not fit for beginners because it's all in Polish.
The book takes the storybook format, following the story of five people of different nationalities. Despite their differences, they are united by a common goal – to become fluent in Polish. This textbook is divided into units, each with its reading and listening material, complemented with exercises.
Grammar problems are introduced in context so it does take some concentration and patience to fully grasp the rules. Dialogues introduce a lot of vocabulary, too.
Click to: Buy on Amazon / Buy on Book Depository
This book is best for:
Upper beginner to advanced learners
Self-studying in conjunction with other resources
Vocabulary expansion and listening practice (with the audiobook)
A fitting end to this list is the sequel to Oscar Swan's First Year Polish. Intermediate Polish is intended for use in the late second through the third year of studying Polish.
This book covers standard colloquial Polish, slang, idioms, and reading exercises that touch on Polish journalism and scholarly text. There are also lots of notes on contemporary Polish culture and customs in addition to commonly used words.
Like First Year Polish, this book has an abundance of grammar explanations and even includes an extensive grammatical appendix. It also comes with plenty of cartoons, pictures, dialogues, and vocabulary lists.
Click to: Buy on Amazon / Buy on Book Depository
This book is best for:
Intermediate to advanced learners
Highly motivated self-learners
Stronger grasp of grammar and wider vocabulary
How to learn Polish fast and effectively with books
After reading this list of books to learn Polish, you're probably itching to order from Amazon or visit a bookstore. But before you do, here are some tips to make sure that you're not blowing money and that you can make the most out of the books you're buying.
Pick Polish books that match your current skill level, not the level you're aiming at
It's cool to dream big but learning a language also requires being honest with oneself. Polish is notorious for being one of the most formidable languages to learn.
Don't add more stress upon yourself by using resources that you can't fully understand.
Don't dismiss children's books
Especially if you're a beginner. Reading short, simple texts helps you build basic knowledge of Polish or any language.
Think of it this way: no matter how old you are, you're essentially like a child if you're learning Polish for the first time.
Look up words you don't understand
This may sound like common sense, but some learners do feel like they're cheating when they turn to a dictionary.
Newsflash: looking up words or asking your teacher is better than assuming or pretending you understood the text. Reading bilingual readers or parallel texts is also helpful for this purpose.
If you're advanced in your studies, pick Polish books you're interested in
Since Polish has complex grammar rules and pronunciation, beginners can't avoid sticking to academic resources.
But if you're an intermediate or advanced learner, you have more room to explore. You can read Polish novels, cookbooks, comic books, or any other reading material that can enhance your knowledge of Polish.
Supplement your learning with other resources
Enroll in online courses. Listen to podcasts. Download apps to learn Polish.
Expose yourself to as much Polish content as possible to improve your reading and writing skills, train your ears, and gain confidence to speak.
Set a reading schedule
Books, or other language learning materials, are only helpful when you're using them. There's no reason why you can't treat reading like a formal language course, too. To make sure that you'll finish a book you start, establish a reading schedule and stick to it.
And that's a wrap! We hope this collection of books to learn Polish, and the tips and tricks above, prove helpful to your Polish language learning journey. Do let us know if you've read any of these books by leaving a comment below!