*This article may contain affiliate links. As an Amazon Associate, I earn from qualifying purchases. For full information, please see the disclaimer here.
A world without language barriers – this is what language translator devices offer. But in the last decade or so, technology has become even more advanced. Now, we can get real-time ear-to-ear translations with translator earbuds.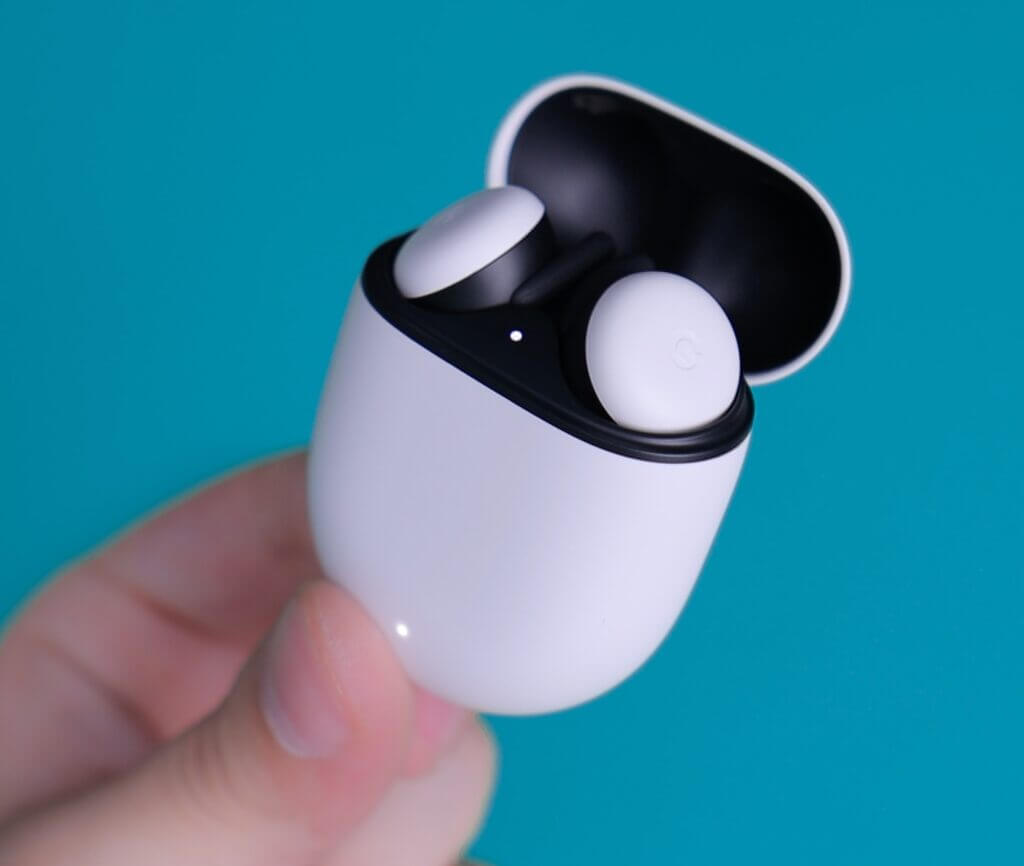 Knowing the local language in the countries you're traveling to can make your travels so much more enjoyable. It can help you better understand the culture, strike a conversation with locals, make new friends, and have a generally comfortable time exploring different places.
But not everyone has the time to learn new languages. Language translator devices like translator earbuds can solve this problem. It's convenient, can be used on the go, and won't take up too much space in your luggage.
How translator earbuds work
Two-way translations
Some of these products provide real-time two-way translations by sharing a pair of earbuds. You can speak and hear live translations on each earphone. Earbuds like Timekettle's WT2 and ANFIER's M6 work like this.
However, some earbuds like the Google Pixel Buds can only be used by one person. The other speaker must speak into the phone's microphone then the wearer of the earbuds will hear the translation. Still two-way but you don't share a pair of earbuds.
Mobile app
All earbuds listed here require pairing with a mobile app. Usually, transcripts of the translations are saved in the app.
Response time and accuracy
These vary per device but most translator earbuds have a response time of 0.5 seconds to 3 seconds.
Perfect translations are still a long way off but some achieve up to 95% accuracy rate which is definitely better than playing charades with people you just met.
Multi-function
Some translator earbuds also work like other earphones do, meaning they can take calls and can be used for listening to music and other audio.
Some, like the Vfeel earbuds, can even translate phone calls.
The best translator earbuds for real-time translations
One can't talk about translator earbuds and not mention Timekettle's WT2 Language Translator. A CES (Consumer Electronics Show) 2019 Honoree, the WT2 is recognized as one of the best language translation earbuds in the market.
This real-time translation device comes in a compact case with two earphones inside that work with the Timekettle app. Just separate the case and share the other earphone with the person you're conversing with.
The WT2 Plus translator earbuds work in three ways. The Simul mode allows simultaneous two-way conversations in quiet environments. The Touch mode is ideal for noisy environments. Simply touch the earbuds to speak, touch again to translate.
The Speaker mode requires only one person to wear one earphone. The speaker just needs to hold his phone for the other person to hear the translation aloud or read the text, which is kind of how some handheld translation devices work. This is perfect for quick inquiries like asking for directions.
Check the price of this device.
Key features:
Supports 40 languages and 93 accents
1-3 seconds voice recognition and translation
Accuracy rate of up to 95% using Google, Microsoft, and iFlytek translations engines
Offline translation for 7 languages
5 hours continuous use
Does not support phone calls or listening to music or videos
If you're looking for a multipurpose earphone translator, JoveTrans is for you. It doesn't merely offer fast and real-time translations in 26 languages; it can also be used for music listening and as a voice assistant.
JoveTrans' translation function is driven by AI so it's fast, accurate, and improves the more you use it. It also comes with transcripts so you can review and study the translations at a later time.
While the WT2 is designed to be used solely for translations, JoveTrans is made for day-to-day usage. Since it has phone and music compatibility, you can answer calls with it, listen to music and podcasts, and do voice commands via Google Assistant and Siri.
And these earbuds don't look bad either. They're well-designed, available in three attractive colors, and are also water-resistant.
Check the price of this device.
Key features:
Supports translations between 26 languages with text transcription
Active noise cancellation
Superior, crisp sound quality
8 hours of continuous listening time
Can be used to answer calls, listen to music, and for voice commands
One of the best options for Android users is the Google Pixels Buds. Like JoveTrans, this pair of earphones not only features translation functionality. It also works as a regular earphone which you can use for music, calls, and to operate Google Assistant.
However, where it truly shines is in its real-time translation.
You can either ask Google Assistant to help you translate a language then it will pull up Google Translate on your phone. Or you can launch the app by yourself.
You set the two languages, touch hold either earbud as you speak in your language, and release when you're done. Your phone will read the translation aloud. The person you're speaking to can also respond in his/her language and speak into your phone's microphone. The translation will then be played back to you in your earbuds.
Check the price of this device.
Key features:
Fast and accurate translations for 40 languages via Google Translate
Noise reduction
Sweat and water-resistant
Up to 5 hours listening time
Supports Google Assistant, calls, and listening to music, podcasts, and other audio
Winner of the CES 2021 Innovation Award, Timekettle's M2 Language Translator Earbuds is a step ahead of the WT2 model. Aside from its live translation capability, it also supports high-definition voice calls and music playback.
Like the WT2, the M2 translation earbuds supports two-ways translations for 40 languages and 93 unique accents with 1-3 seconds response time.
It also provides offline translations for 7 languages. (If access without WiFi is important to you, check this list of offline translator devices.)
Similarly, all three modes (Simul, Touch, and Speaker) are available on M2.
These earbuds also feature smart sensors for translations, calls, music, and voice assistant. It's also sweat-proof and comes with upgraded battery life with 6 hours of listening time.
Check the price of this device.
Key features:
Real-time, two-way translations for 40 languages and 93 accents
Qualcomm Bluetooth 5.0 for crystal clear audio for music and calls
Offline translation for 7 languages
3 translation modes
Secure-fit ergonomic design and sweat-proof
Another multi-function pair of earbuds, ANFIER's M6 Translator recognizes 71 languages and 56 accents. What's more, it can reach up to 97% accuracy in its translations. Since it uses 15 servers worldwide, it can translate in as fast as 0.5 seconds.
The M6 Translator buds support two-way translations via its Touch mode. Each person can wear an earphone for simultaneous translations.
It also has a Speaker mode which requires only one earbud along with the speaker's phone. Moreover, the app transcribes and translates speech to text in real-time.
Check the price of this device.
Key features:
Live translation and transcript for 71 languages and 56 accents
Two modes for translations
5 hours continuous use
High-fidelity stereo sound for calls and music
Secure-fit compact and comfortable earbuds
One of the most powerful translator earbuds in the market, Vfeel not only supports real-time translations for face-to-face conversations but can also translate voice calls!
The Vfeel Portable Voice Translator is a small gadget that supports translations for 40 languages and 93 accents, which makes it a handy tool for travels. But perhaps its best feature is its Translation Call mode that's perfect for conference calls with foreign business partners.
This device also features Bluetooth 5.0 with intelligent noise reduction. When not using it for translations, you can use it to listen to music or other audio.
Check the price of this device.
Key features:
Two-way translations for 40 languages and 93 accents
5 working modes, including Simultaneous mode and Translation Call mode
Response time of less than 1 second
Music playback and controls
Noise reduction
18 months warranty
Click to: Buy on Amazon
Let's face it, the idea of sharing a pair of in-ear earphones with another person may not be appealing to everyone. Waverly Labs thought of that and designed hygienic over-the-ear translator earbuds. But that's not all they threw into this nifty device.
This sleek tool features two microphones that work in tandem to capture speech up to 8 feet or 2.5 meters away. Ideal for group travels, you can pair up to four Ambassador units to a single smartphone.
The Ambassador also has a Lecture mode that's perfect for groups and conferences. You simply set your Ambassador to translate everything you say and stream it through your smartphone's loudspeaker or a paired audio system for your audience. How cool is that?!
Check the price of this device.
Key features:
Over-the-ear form for hygienic sharing
Three translation modes: Listen, Lecture, Converse
Translates 20 languages and 42 dialects
Light and ergonomic for comfortable wearing
Battery life of up to 6 hours
Design-wise, Supreme Tech's translator earphones may not be as appealing as the others on this list. It looks like those Bluetooth earbuds of yesteryears. But as a translation device, it can be a lifesaver.
Providing real-time translations for up to 32 languages, this earphone has 5 translation modes: face-to-face, group translation, direct mode, instant translation, and broadcast mode.
For face-to-face translations, it works like the Google Pixel Buds, where the person you're speaking to must speak on your phone's microphone. The Direct mode also enables two users who are both wearing a Supreme Tech earpiece to speak and get translations regardless of location. This is great for business calls with foreigners.
Check the price of this device.
Key features:
Real-time translation for 32 languages
5 translation modes
Offline translation for select languages
Can be used for voice calls
5 hours continuous use
Handheld translator devices vs. translator earbuds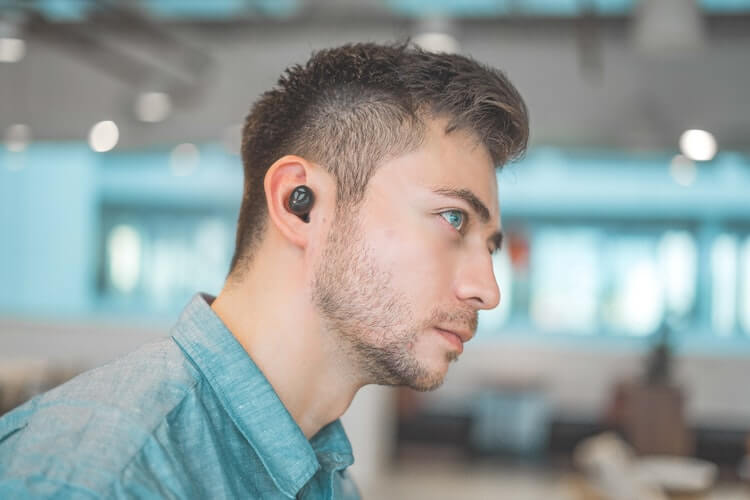 If you've read our article about handheld language translator and pen translator devices, you'd know that such devices are convenient during travels and business meetings. They also help with language learning.
The same is true for translator earbuds, except handheld translators typically operate as stand-alone devices. Earbuds, on the other hand, are Bluetooth-operated and require pairing with mobile apps.
If you like the idea of a pocket-sized device that won't drain your smartphone's battery, go for a handheld language translator device.
But if you like wearable tech or simply like ear-to-ear translations, translator earbuds are definitely the cool option. In addition, if you want your money's worth, those with voice calls and music compatibility may serve you better.
So, have you made your choice? Which of these translator earbuds appealed to you? Make sure you get one before your next overseas adventure!