*This article may contain affiliate links. As an Amazon Associate, I earn from qualifying purchases. For full information, please see the disclaimer here.
Good news! English is a Germanic language, so you've already got a head start if you're reading this article. Unfortunately, that isn't enough to make you fluent in one day. To truly master Deutsch, you've got to be dedicated, thorough, and of course, you'll need some books to learn German.
Every time you catch an Uber, experience wanderlust, or order a bagel, you use German words. But you'll need more than that, so we're here to help you. We've got a list of the best books to learn German for beginners, grammar books that won't bore you to tears, audiobooks, and helpful tips. Komm schon!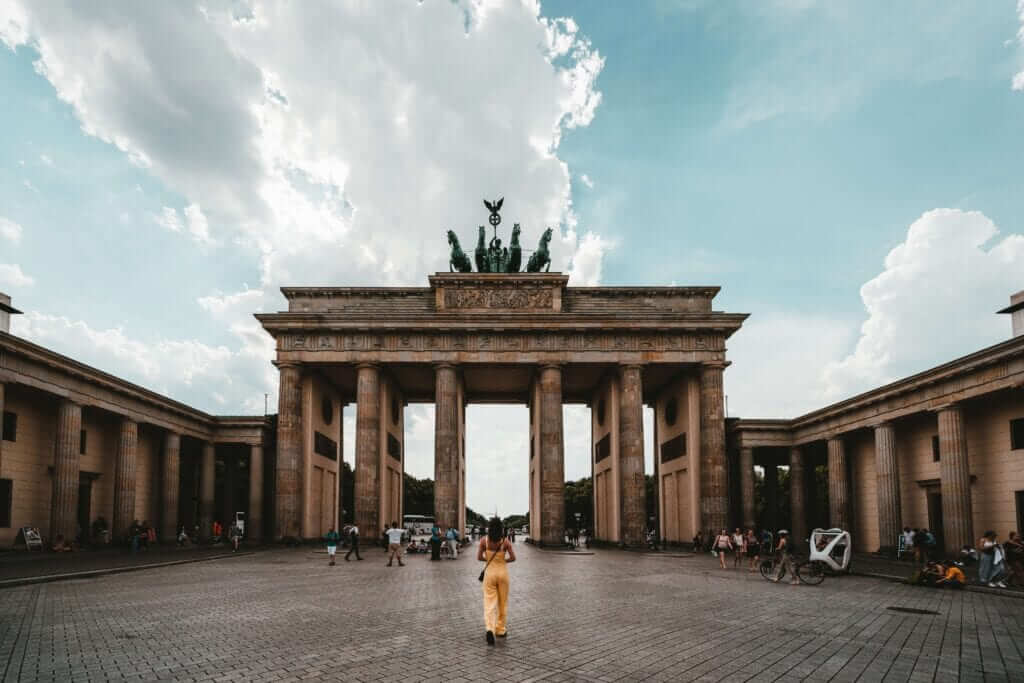 Editor's note: To reach fluency faster, combine these books with fun apps such as Babbel and Mondly, and audio courses such as the famous Pimsleur. And how about hiring an affordable online tutor through italki? For your convenience, we've compiled an epic list of 50+ German learning resources, including FREE ones!
Books to learn German for beginners
Few things are more frustrating than wanting to learn a new language, but not knowing where to begin. Below are the best books to learn German for beginners, and each will add value to your language learning journey. Gute Reise!
Don't be put off by the word "advanced" in the title. This book proved a million times more useful to me than a dictionary when I was taking my German exams.
It contains synonyms, word groups relating to each other and is, in my opinion, the most valuable vocabulary builder for any level of German speaker.
Before you even take your first lesson, I advise you to flick through this and just begin recognizing word patterns. It will make everything much easier if you've seen the words before, even if you don't need to know what they all mean yet.
This book is best for:
Beginners, intermediates and advanced level German learners
Learning German vocabulary easily and effectively
Familiarizing yourself with German words
Not the most imaginative title, but the content is everything a beginner could ask for.
This book is especially useful for people who are planning on moving to Germany. Learn everything from German healthcare to cultural history, as well as essential words and phrases.
And it even delves into the complicated matter of German grammar seamlessly and as gently as possible.
This book is best for:
Newbies just starting out with German
People who need to learn basic German quickly
Learners who want a consolidated guide
Every beginner needs some easy stories to help them get used to reading in their new language. Coupled with Wort fur Wort, this is a gateway to extending your vocabulary and seeing sentence structures in practice.
The stories are occasionally amusing, but mostly act as an easy assimilation to German speech, descriptions and word orders.
This book is best for:
Beginners to practice their reading and comprehension skills
Broadening your vocabulary
Seeing sentence structures and how they flow in German
It doesn't take long for even the boldest and bravest German learners to realize that German grammar is a personified headache. How many cases? The subjugated what? I hear you.
This guide is simplified, but doesn't cut corners. The aim of the book is to make learning German grammar painless.
You also get instruction on pronunciation, when to use "Sie" or "Du", and all the stuff that usually trips English speakers up when learning German. I heartily recommend it for beginners and even intermediates to recap what they've learned.
This book is best for:
An introductory, thorough guide to German grammar
Brushing up on things you have already learned in class or workbooks
Access to simple explanations in digestible chunks
Here's a language learning life-hack: the best way to figure out if you're ready to move on from beginner to intermediate is to test yourself. That's where this book comes in.
It's classed as "easy" to read, but this story contains some complex language and sentence structures. For beginners who are unsure of whether they should continue along the beginner path or pivot to intermediate, this will be especially helpful.
Plus, it helps that this story is well-written and actually enjoyable to read.
This book is best for:
Beginners introduction to German literature
Testing reading skills
Reviewing your comprehension skills
Finding enjoyment in learning a language
Best books to learn German grammar
If you're a complete newbie to German grammar, boy have you got some tough times ahead of you. No pressure.
My German teacher taught me the dative case using this mnemonic: "Aus, Bei, Mit, Von, Nach, Zeit, Zu, all take the dative and Gegenüber too (and Außer)". If only the rest of German grammar was that easy to remember.
Polyglots and newbies alike have had their limits exacerbated by learning German grammar, so it's essential you pick a reliable and instructive guide. Here are your best grammar books to learn German!
As complicated as German grammar is, this guide makes it seem (almost) easy to follow.
Schaum narrows down complicated content to focus on particular areas of grammar. This is especially good if there's something particular you know you need to focus on.
There's also handy insights into slang and idioms which will make your written and spoken German more culturally relevant. Finally, there are 400 drills and exercises included so you can really hone down on a topic until you've mastered it.
This book is best for:
Beginners and intermediate level learners
Plenty of practice questions and drills provided within the pages
Easy to follow instructions with explanations
Here's one for learners who need an intensive course on the basics of German grammar. This book encompasses all the ground rules, and dedicates a chapter to each necessary evil, including the four cases, word order and conjunctions.
If you're saving money by not investing in a tutor, I recommend you splash out on this guide. Help of this kind doesn't come cheap, but it's absolutely worth the money. There's an option to rent this book, which should absolutely not be ignored.
Each chapter contains easy-to-follow instructions, examples, and practice questions for you to do your best at.
This book is best for:
Beginners and intermediate level learners
German learners who like to have their practice space consolidated
Readers who prefer a condensed information approach
Value for money
Some people like to learn using a mixture of methods. The Practice Makes Perfect series comes with access to the publishers' app which makes reading the book easier and breaks up the monotony of reading and filling out exercises.
The guide itself covers everything you need to know and a little extra, which is great if you're looking to become fluent in German.
This book is best for:
Beginners
Plenty of exercises and drills
In-depth explanations of German grammar rules
What I like about this book is its logical approach to learning German grammar. We all know Germans have a reputation as being sticklers for rules and highly logical people, and their language is no different.
With this guide, the rules of German grammar are laid out easily and each subject flows nicely.
I personally fared better with this exact guide written in German as you'll see in the next recommendation, but for beginners, this is as good as it gets.
This book is best for:
Beginners, newly established intermediate learners
Logical thinkers who need thorough explanations
Clear and concise approach to learning German grammar
During high school, I was notoriously excellent at reading and understanding spoken German. On Wednesdays we had grammar tests, and poor Frau A would shake her head at me. I just couldn't get my head around it.
Luckily, I sorted my own problem out. I learned it was much easier for me to understand German grammar when it was explained to me in German. Strange though this might seem, learners who are already comfortable reading in German with an extensive vocabulary may find this helpful too.
Intermediate to advanced level German speakers will undoubtedly benefit from this grammar book as I did.
This book is best for:
Intermediate to advanced learners
Advancing your knowledge of German language terminology
Utilizing your strengths to help you improve your weaknesses
Best textbooks to learn German
Next, textbooks. You might have hated carrying these around at school but for any language learner, they're vital for the learning process.
Of all your books to learn German, your textbook needs to be top notch. You need a textbook which will instruct, cover a variety of topics, and keep your progress steady. Here are some tried and tested recommendations!
Don't look at the cover too long, rumor has it you'll be transported back to the year 2000. It looks outdated and outmoded, but as with many things, it's what's on the inside that counts.
This is the textbook most American high schools opt for, and with good reason.
If you've never had a German lesson before, this is a great place to start. It misses out contemporary slang, but more than makes up for that with its in-depth lessons on the basics. This is a great kickstarter, in other words.
This book is best for:
Beginners who need a guide to the basics
A consolidated mix of exercises and lessons
People who like tutorial based lessons
Here's another guide for complete beginners. Books to learn German sometimes take the occasionally cringe route of trying to be too "down with the kids". Not this one.
This book is designed for pretty much anyone, and isn't written in a tone suggesting teenagers are reading the content. Introductions, describing your appearance, and basic grammar rules are all included.
What I like most about this German textbook for beginners is the amount of exercises you're encouraged to fill out. Every lesson has follow-up questions, so you can go at your own pace.
This book is best for:
Beginners
German learners who are self-teaching
People who want plenty of practice questions
Here's one to help the intermediate learners among you. This guide goes into greater detail on the more complex aspects of German grammar. There's a lot to love about this book, especially if you've only just moved on from beginner level.
It's particularly good at teaching the gender of words, and gives the exceptions to the rule. There are also lessons on how to deal with compound nouns, plural word endings and it has a glossary if English grammatical terms boggle your mind.
This book is best for:
Intermediate level learners
In-depth grammar guidance
Getting to grips with more complex language rules
An oldie but a goldie. It might be too complex for beginners, but if you're on the edge of moving up to intermediate level I'd heartily recommend it.
What I love most about this textbook is how varied the lessons and practice questions are. No need to fill out boring grammar tables when you can get the gist of it through writing practice.
It's pricey, but personally, I think this is a great option if you want to improve a range of language skills. That's to say, speaking, reading, listening and writing in German. It also showcases German as a beautiful language (not something we often hear!) in its decision to feature poetry.
This book is best for:
Intermediate learners
Exercises including but not limited to grammar
Contains interesting and entertaining topics
You know how you learn best. This textbook takes a fairly hands off approach, and for intermediate level learners, that will either entice you or put you off.
Personally, I think this book offers much in the way of freedom to venture into other aspects of learning German. People interested in German culture will definitely appreciate how the book highlights similarities and differences between Americans and Germans.
I also love that it contains snippets of Brothers Grimm fairy tales and exercises surrounding German movies.
This book is best for:
Intermediate to advanced level learners
People who like to "go their own way"
Recapping grammar rules in an innovative way
Practicing writing
Mentions and explanations of German culture
Best audiobooks to learn German
Next on the list, audiobooks! Listening to audiobooks can be a helpful and enjoyable way to learn a language. Self-teaching beginners out there, this is your best insight into pronunciation without imagination.
Books to learn German endeavor to try to phonetically spell things, but nothing beats hearing it aloud. Intermediates and advanced level learners, this is how you kick it up a notch. Hör zu und wiederholen!
A mistake beginners make who are teaching themselves is trying to do too much at once. Going it alone when learning a language can be lonely. Give yourself some time off teaching yourself and let someone else take over.
This is a great option for people who have only just started, or struggle to fit in their language learning into their day. The narrator is patient, thorough and guides you on pronunciation and grammar rules.
For an audible all-round introduction to German, this is your best bet.
This book is best for:
Beginners
People who learn best through auditory tuition
Learners who are self-teaching
No need to overcomplicate learning German through audiobooks. Beginners or intermediates who are already aware of the gaps in their knowledge will appreciate this book filling them in.
The narrator goes through vital vocabulary and builds up your confidence throughout to help maintain your motivation. What's most impressive about this book is how easy it makes language learning feel, and its natural approach to introducing new topics.
This book is best for:
Beginners
People who are self-learning
Learners struggling with conversational, day-to-day German
Of course, Germany isn't the only country where they speak German! There will be some of you out there who want to get to grips with Swiss German.
In essence, they're the same. In reality, they're different.
Dialects, accents, colloquialisms, all these things differ just as they do in the English spoken around the world. This is the audiobook to help out wannabe Swiss German speakers!
This book is best for:
Beginners & Intermediates
People interested in Swiss German (Accent, dialect & customs)
Learning about Swiss German culture
Swiss German pronunciation
It's partly thanks to the Brothers Grimm that we have fairy tales at all. Listen to them in their original state, and you'll find yourself daydreaming about forest pines and gingerbread houses.
Kids stories do an excellent job of using simple sentences to great effect, and are an excellent tool for getting accustomed to spoken German.
Beginners, these stories are lovely, interesting and are sure to test your vocabulary. Intermediates, focus on the narrative structures. Advanced learners, well, this is just a nice change, isn't it?
This book is best for:
Beginners and intermediate learners
Hearing spoken German
Appreciating a historic aspect of German culture and language
Finally, when you're nearly fluent (or you're really looking to challenge yourself), it's time to give German literature a try. For that I recommend Trümmerkind by Mechtild Borrmann.
It's not an easy read, but a darn good one. This is a mystery/thriller that will keep you on your toes and, hopefully, encourage you to dip your toes into other German literary masterpieces.
Arm yourself with a dictionary and a physical copy of the book if you need to. It doesn't matter if it takes you a year to finish it. What matters is that you aren't afraid to test yourself and read something in its original language!
This book is best for:
Advanced level German speakers
A real challenge and treat to reward your efforts
Gripping narrative
Reading authentic German literature
Tips and tricks to learn German
You've got the books to learn German, but what next? Well, other than reading them, a few extras will help you along your way. Here's some advice:
Investigate German traditions & try them yourself:
Getting yourself in the mindset to learn a language is half the problem, so if it's Christmas time, why not learn the original hymn O Tannenbaum? Or just bake pretzels the German way. You do you, but do it auf Deutsch, so to speak.
Download some apps:
We should be grateful to smartphones that they've made learning languages a million times easier. And even more grateful to people like Babbel and Rocket Languages. Use the former to get quick and easy access to German, and the latter if you're in this for the long haul.
Invest in a tutor:
Listen, if you're doing this alone, I applaud you. But we could all use a little help sometimes. Nothing beats having someone who knows better than you do on your side, especially if they're a native speaker. Websites like Italki or Preply help provide you with digital lessons and without breaking the bank.
Learn some German tongue twisters:
Bored of conventional pronunciation drills? Here's a challenge. Try saying "Schnecken erschrecken, wenn sie an Schnecken schlecken, weil zum Schrecken vieler Schnecken Schnecken nicht schmecken". If that doesn't shake up your practice a bit, I don't know what will. (Meaning: Snails are shocked when they lick snails because to the surprise of many, snails don't taste good.)
Find a German kids news network:
Reading the news in the language you're trying to learn can be really useful. If the adult sites are too confusing, head to Nachrichten für Kinder. It teaches you vocabulary you won't find in many guides, and keeps you up-to-date with current events. Get a hold on the native German perspective, and see how your language skills improve.
Linguistic treats: German edition
If you're reading this part, it means you made it to the end of the article. Awesome job! Sometimes, learning a language can feel like a slog. So because we're feeling generous, here are some wonderful German words that will make learning all that grammar worth it. I swear.
Waldeinsamkeit: Meaning – being alone in the woods or forest. The safety and comfort you get from being surrounded by trees.
Augenblick: Translated literally, it becomes "eye blink". Meaning – moment.
Schnapssidee: Meaning – Schnaps idea. We've all been here at least once. When you've had a few too many and you think you've come up with the new, better Amazon or contender for Google. Then the next day you realize it's a Schnappsidee.
Fernweh: Meaning: distance pain. We've all felt this a lot this year (2020) what with one thing or another. It's the opposite of homesickness, the desperation to get away and get back out there.
And that seems like the perfect place to wrap this up! Now, discover 50+ best apps, podcasts, websites and online courses to learn German. Let us know in the comments below how your learning German journey is going!